Technical issues and bad luck hampered Martin Molnár in the second round of this year's WSK Super Master Series. The Energy Corse kart driver fought hard at the race in Franciacorta.
After opening this year's WSK Super Master Series with an unlucky weekend, fortune was not on Martin Molnár's side at the second round of the series in Franciacorta. The Energy Corse driver started his Friday with the knowledge that technical issues would make things very difficult for him. Then he finished in the 17th place in his group in qualifying, which meant he finished outside the top 20 in all three heats.
When the drivers start from the middle of the field, there is always a chance that they will be involved in a crash or a bump after the start. This happened to Martin in two out of three heats and including the prefinal, this weekend, in three out of four races, he lost positions in the first lap. Twice he found himself at the back of the field and once in last place.
Only in the prefinal he didn't gain his starting position – although there he also gained several places after a fallback – which shows that he have excellent fighting skills. After these, while his pace in the first race on Sunday was promising, he had a reason for confidence as he was only 2 points away from qualifying for the final.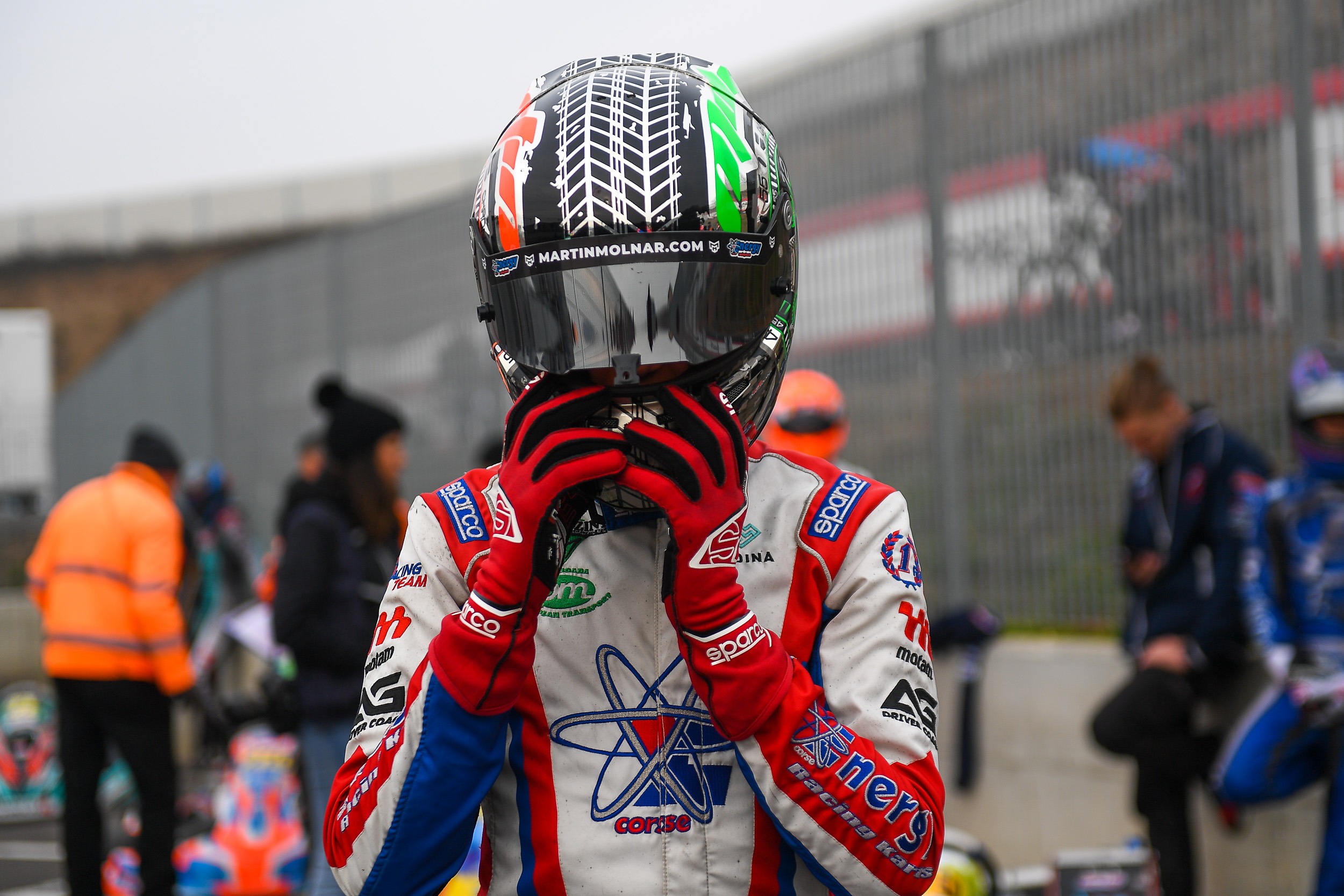 "We were definitely not bored during this weekend. I managed to gain a lot of positions during the races, but I didn't have the pace, so it didn't work out as we expected. Starting from so far back is a different way of racing than when you start from the front, so I got a lot of new experience. I tried my best, but unfortunately I didn't make it to the final. If I could, I would get back in the kart tomorrow, but now we have to wait until Sarno," said the HUMDA-supported driver, referring to the third round of the WSK Super Master Series.
"Race weekends like this are part of the sport and I'm sure that after the difficulties, we will come back much stronger together with the team to continue. I would like to thank Energy Corse Racing Karts, my coach Antonio Galluccio, my mechanic Andrea Terron and Machac Motors for their efforts this weekend, and I would also like to thank HUMDA Hungarian Motorsport and Green Mobility Development Agency Zrt. for their support."
Martin Molnár will next compete at the third round of the WSK Super Master Series in Sarno, between March 3 and 5.
Molnár Martin, OK results
Participants: 71
Qualifying group: 17.
Qualifying overall: 50.
A-B Heat: 26. ->  21.
B-D Heat: 24. -> 22.
B-C Heat: 25. -> 16.
Heats overall: 39.
Prefinal: 20. -> 24.
Prefinal overall: 39.